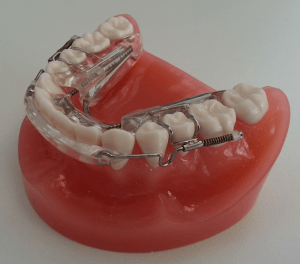 Chaffin Dental Care offers the Inman Aligner ™ to help correct the alignment of your front teeth. Our dentists may recommend an Inman Aligner ™ treatment if your teeth are crowded or protruding. We welcome you to call us at 509-467-6128 for more information on the Inman Aligner in Spokane, WA, and to schedule your consultation with Drs. Chris and Topher Chaffin.
The Inman Aligner ™ is an excellent solution for crowded or protruding front teeth. This innovative treatment is very efficient and safe. Using the Inman Aligner, you can gently guide your front teeth to an ideal position in just a few weeks – the average treatment time is only 6-18 weeks! The Inman Aligner is removable, making it easier for you to chew, brush, and floss your teeth.
The Inman Aligner is a removable appliance and is used both as a stand-alone treatment and to pre-align your teeth before further cosmetic treatments, such as dental bonding or veneers. The Inman Aligner ™ works by using two coil springs to power opposing aligner bows, gently guiding your teeth into the correct position.
Our dentists will meet with you to determine if Inman Aligners are a good option for you. They will take impressions of your teeth and carefully fit your Inman Aligner ™ to your mouth. You will need to wear your aligner for 16-20 hours each day (whenever you are not eating or caring for your teeth) and visit our office every 2-3 weeks so that our dentists can check that your treatment is progressing as planned. Following your Inman Aligner ™ treatment, we may recommend that you receive a retainer to prevent your teeth from shifting out of place.
To learn more about the Inman Aligner ™ watch the video below or schedule your Inman Aligner ™ consultation with our skilled team, please contact our office in Spokane today.